Her creations are born on a sketch sheet, go through a workshop to build the various elements (cardboard rockets, costumes, hats with flowers, colorful scenery …) which, once assembled, are photographed with models or elements and the resulting images, carefully post-produced.

Both his joint work with Javier Gamonal and his solo images are easily identifiable by their cheerful color palettes, handcrafted elements and conceptual strength. Underlying all of them are humorous elements and an optimistic and constructive reflection on who we are.
«Every creator has different ways of creating and feeling. In my case I connect with joy and energy through a careful color palette and I look for expressive and constructed images that tell things» declares the artist.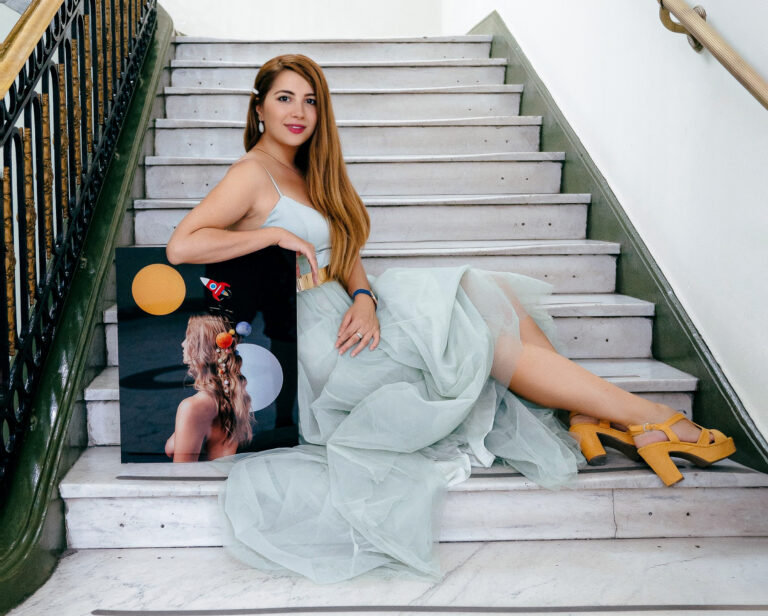 Although Riu generally creates thematic series (Social Networks, Celestials, Purposes) each piece is designed to also function individually and can fulfill a decorative function, so that they can be enjoyed both in their narratives and in their purely aesthetic dimension.
«My training as an art director gives me a practical vision when thinking about images and composing.
thinking about the images and composing».
In this edition of the European Photography Awards, the jury has highlighted the following works of the author
following works by the author:
2 golds in the Still life category with the series «Purposes» and «Gender Rolls».
1 honorable mention in the same category with the series «Social (Me)dia», which was selected at the Sony Photography Awards.
which was selected for the Sony Photography awards in 2021.
4 golds in the different categories of photography to people: portrait, emotions, conceptual and fine art with 3 images of the Celestials series (co-authored with Javier Gamonal) presented individually. One of them, Florecer, already won the London Photography Awards.
Honorable mention for Lluvia, in portrait.
From the same series, gold in the nude category with the image Night dreamer.
Gold in the Boudoir category with the series Hold On, created together with Javier Gamonal, and a second gold for the emotional photography category. It is a series of great beauty that talks about loneliness, resilience and support among members of the LGTBIQ+ community.