Berenice Riu is a gifted, award-winning visual artist and the founder of Kima Collective, a visual art agency specializing in high visual impact imagery.
Simplified for the layman, a visual artist creates appealing artworks like paintings, sculptures, and other art forms. Creating these artworks can be an exciting and pleasant career for people like Berenice. They enjoy working in a creative field and have artistic skills.
It would seem Berenice was born with an innate ability for creative arts. The insanely gifted Spaniard revealed that as a little kid, one of her favorite games was creating and wearing costumes. "I literally used whatever I had at hand to make them: from pillow covers to cardboard boxes. I wrote stories and lived more in the fantasy world than in real life. At home, they were so sure: I was going to have a creative job", she recalled.
As Berenice grew into a celebrated artiste, so did those creative abilities which she had always had as a child. "You can still find carefully crafted details in my pics. Sometimes it's a custom-made garment, hand-painted or built backdrops, and scenery or papercut elements. Again, that's the crafting kid saying hi, still using colorful palettes because I tend to leave a trace of joy even when I'm making a critical statement."
Berenice notes that the entire process of visual artistry is replete with challenges and difficulties. "The photo is just a part of my process. Doodling is the first step, creating the elements for the scenes and arranging them together afterward. The lightening, the photo itself, and then the editing and post-production." These steps all require dexterity and unmatched attention to detail. Qualities that are not in short supply for Berenice.
Berenice revealed she looks up to American designer, art director, illustrator, and educator, Jessica Walsh. "This will come as no surprise, but my biggest influence doesn't consider herself a photographer either. Jessica Walsh has been a major inspiration throughout my career, and she is hands-down the most uplifting example. She is THE boss."
Berenice's achievements are as impressive and colorful as her works. In the latest edition of the European Photography Awards, the jury has highlighted the following works by Berenice:
  • 2 golds in the Still life category with the series "Purposes" and "Gender Rolls".
  • 1 honorable mention in the same category with the "Social (Me)dia" series that was selected for the 2021 Sony Photography awards.
  • 4 gold medals in the different categories of people photography: portrait, emotions, conceptual and fine art with 3 images from the Celestials series (co-authored with Javier Gamonal) presented individually. One of them, Florecer, has already won the London Photography Awards.
  • Honorable mention for Lluvia, in portraiture from the Celestials series (co-authored with Javier Gamonal)
  • From the same series, gold in the nude category with the image Night dreamer.
  • Gold in the Boudoir category with the Hold On series, created together with Javier Gamonal, collects a second gold for the emotional photography category.
Berenice is not resting on her laurels yet. She has set her sights on more projects. Currently, she's putting the finishing touches to the last pieces from the "celestials" series this week. Next year, she'll be launching the "Kima Collection," an online shop where people can buy some limited and authenticated pieces. Both from her and from other selected artists.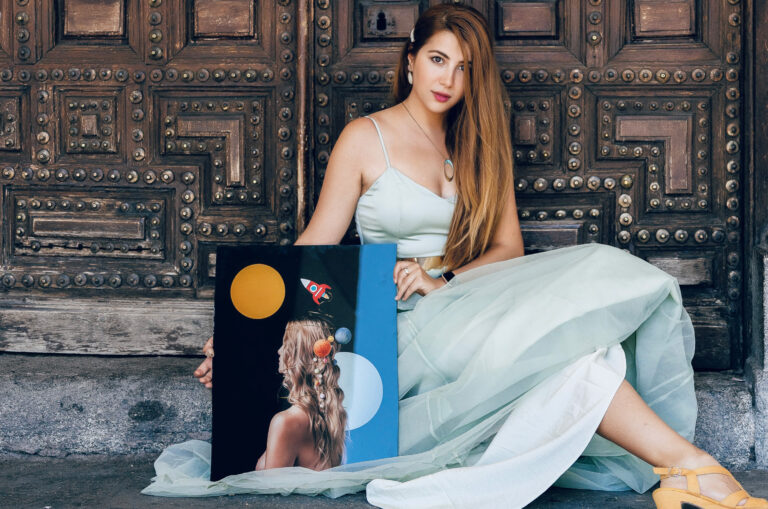 Berenice has been in the creative and visual arts industry all her life and has learned some valuable lessons: "In my particular process, not only in photography but also as a creative director and artist, creativity and ideas are important, but good planning and methodical work are at least as important. Some people can get away just with talent, but for most of us, talent is just an ingredient and is as important as knowledge and endeavor."
Berenice is not limited to arts and painting. She also runs a technology-based company, and in her free time, she trains agility with her dog, Elsa, every week. She also loves reading, hiking, and dancing.
Berenice is very grateful for the recognition that her work is getting. "It's always rewarding to see that your audience and other professionals really like what you are doing."
Berenice is a very humble person who, despite her gift, is always willing to learn. "There is always someone better than you or who has more knowledge. Don't be arrogant and listen; learn and be thankful. Do not restrain yourself to people that have your kind of expertise, sometimes someone doing very different things can be a huge source of inspiration." it's this humility, her innate ability for creative arts, and her keen willingness to learn that is propelling Berenice Riu to the pinnacle of global visual arts.